The biggest chocolate launch from Mars Wrigley for 2020
We are excited to confirm that by the end of July, you will be able to find Pretzel M&M's on shelves. Sweet but salty, crunchy and smooth. Mars Wrigley are calling this their biggest chocolate launch of 2020. Here at MyBrandz HQ, the anticipation for these little babies to be released is nothing short of a kid on Christmas Eve. We cannot WAIT!
While Mars Wrigley have enjoyed success with a number of innovative products released this year, Pretzel M&Ms is one they are touting to be their most successful. Bringing together a new, but familiar textural sensation of a crunchy salted pretzel ball, coated in milk chocolate and a crisp candy shell. The infusion of sweet and salty flavours taps into key snacking trends, while crunch-based textural innovation makes up a third of all global launches. These new M&M's are sure to be a hit.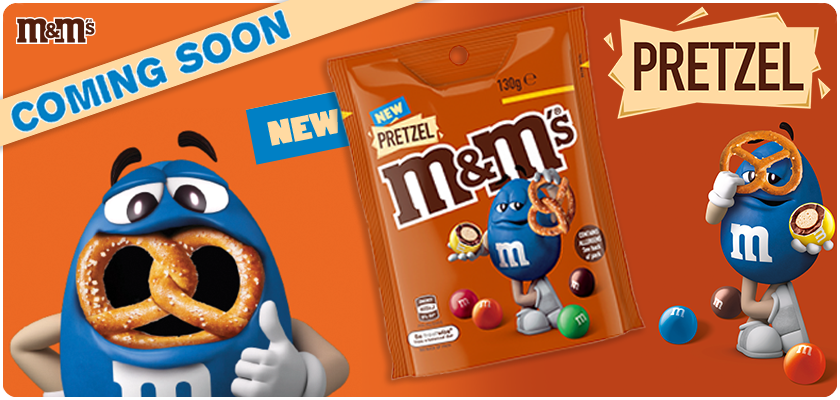 Doritos with a side of zing
After a refreshing, zesty zing? Of course you are, who wouldn't want more zesty zing in their life?! Doritos have partnered up with Mountain Dew to release a new limited-edition Mountain Dew-flavoured chip. We're pretty stoked that Aussie consumers are the first in the world to have the chance to try this unique product.
So, what does it taste like? According to PepsiCo (owners of the Doritos brand), they "combine the lemon and citrus flavour of Mountain Dew with the delicious corn crunch of Doritos in just one bite." Sounds good to us.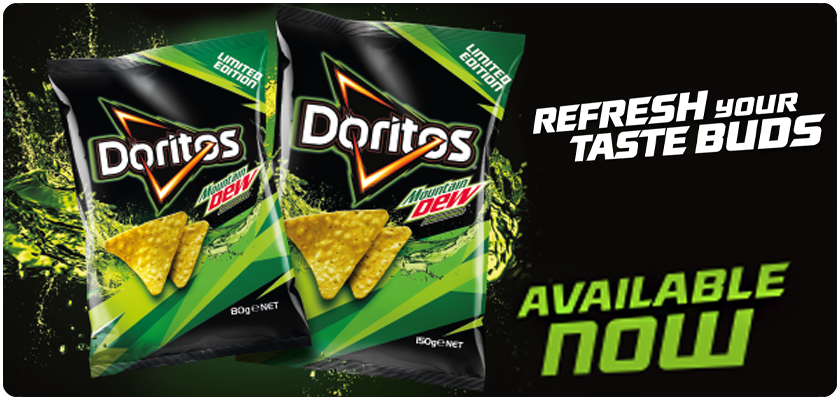 Biscuits inspired by desserts
Arnott's have just released their new range, which takes some of their most iconic biscuits and gives them an exciting, new twist. First on the list is Iced Vovo Lamington, which combines two classics – Iced Vovo and Lamington. This new product boasts a delicious biscuit base, topped with chocolate fondant, jam raspberry topping and a sprinkling of coconut.
Or how about the Scotch Finger Salted Caramel Tart? Fusing together their original Scotch Finger with decadent Salted Caramel Tart. You're in for a treat with the traditionally crumbly, heavenly buttery taste of the Scotch Finger, coupled with crunchy caramel chunks and salty bite.
Finally, Shortbread Cream Mudcake brings a new dimension to the Shortbread Cream biscuit. With two delicious chocolate shortbread biscuits, filled with an elegant piping of deliciously smooth chocolate cream. It's a combination we've only dreamed about… until now!

As Aussie as they come – Milo in a Can
It's about time! Get the nourishing energy and delicious taste of Milo in a convenient, on the go format. An Australian classic now made even more accessible. What makes it even better – Milo cans are endorsed by the Health Promotion Board under the Healthier Choice Symbol programme. This makes their new product a great choice for kids (and big kids!).

Calling all caramel lovers
Werther's Original will always be a classic caramel candy that brings us back to childhood memories. Take a walk down memory lane with the newly released Werther's PrePack. Including their No Sugar Added Flip Top Box, Cream Candy Roll and Chewy Toffee Roll. With this PrePack, there's an option for every caramel lover. Whether you prefer yours hard and crunchy, soft and chewy or with less sugar, you can find these on a counter near you soon.

Spoil Dad this Father's Day
The new Fyna Liquorice range has been warmly received by consumers.  A fantastic high-quality liquorice option from an Australian company. What better way to show the man in your life how much you care, by getting him the very Special Dad's box? Containing the best-selling lines from their range including bullets, bites and rolls.
Available to order from your local The Distributors in August. Or if you simple can't wait, preorder yours today! Find your local Distributor.

Get Your Game On with Maximus
Maximus is a big, thirst quenching drink for the hardest worker in the room. Two new flavours join their popular line up this month – Game On Blackcurrant and Game On Lime. Plus, the lovely crew from Frucor are offering retailers an option to win an X Box with every drink purchased. Now there is even more reason to stay hydrated!

Say Cheese!
Cheezels are well-know to be deliciously cheesy, finger-licious fun for all ages.
An exciting new flavour variant joins the line up this month, with Cheezels Chilli Cheese. Available in both 80g and 110g, they are the perfect individual snack, or to take along to a post-Covid restrictions party!

Okay. Hopefully we have intrigued you enough…