The power of using senses in new food development  
Human beings are influenced by all of our senses when we choose what to eat.
How then, do you take this knowledge and create new experiences for consumers?
The team at Mars Wrigley have found a way.
While the humble Mars Bar is the second most consumed chocolate bar in Australia, Mars Wrigley haven taken things up a notch with their new limited-edition variant – Caramel Sundae.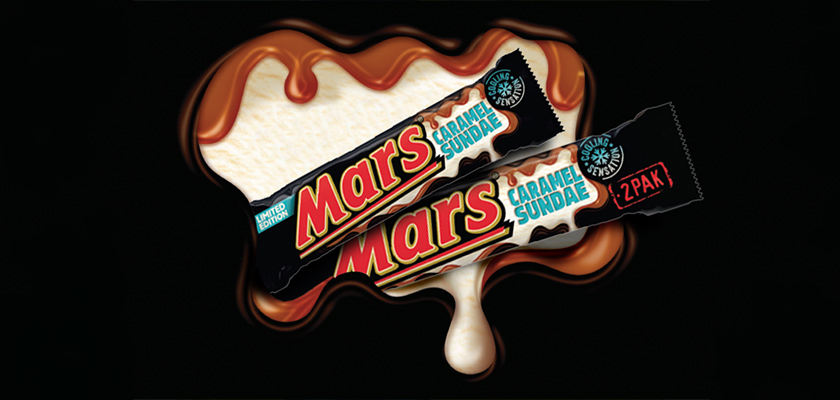 Mars Caramel Sundae is the first-to-market chocolate with a sensorial experience.
Yup, you heard correctly. Chocolate with a sensorial experience. If you're thinking that seems like a made-up word, we're with you.
A quick Google search found this;
"Sensorial" – Adjective; Relating to sensation or the senses
Right. So, we have a chocolate bar that is going to hit us with more sensations…. How are they going to do that exactly?
Well, when you bite into Caramel Sundae, you'll start with layers of smooth Mars Milk chocolate and caramel that we all know and love. But then, you'll get to the middle. This is where the magic happens.
You ready for this?
Vanilla ice cream flavoured nougat with a cooling sensation. Mind. Blown.
It's a sundae in a bar.
Mars Wrigley are tapping into the fact that consumers are looking for an experience alongside well-known and trusted brands. Taking the much-loved Mars Bar and reaching for outer-space with what it can be (see what we did there….?).
The exciting thing is that Caramel Sundae received exceptional consumer testing results. This bar isn't just a gimmick, it actually delivers on taste, too.
Mars Caramel Sundae, available as a single serve 45.5g or twin pack 64g, can be ordered through your local The Distributors members today.
To find your local The Distributors member, go here FIND MY LOCAL DISTRIBUTOR.