Suck on a Soothers Immune+ to boost your immunity this winter
Soothers Immune+ have been on shelves for a couple of months now, following their release in March this year. If you haven't tried them yet, now is the perfect time.
Immune+ provides everything we know and love about traditional Soothers, with some great extra benefits. The addition of Zinc and Vitamin C make these little gems a fantastic edition to your medicine cabinet.
Zinc is not in any other Soothers product and is known to support immune system health. There is 2.1mg zinc per lozenge, which comes from Zinc Ascorbate.
The added Vitamin C comes from Sodium Ascorbate and Zinc Ascorbate. Vitamin C is an antioxidant that fights free radicals in the body.
With cough and cold sales increasing by 62% over winter, win the winter with Soothers!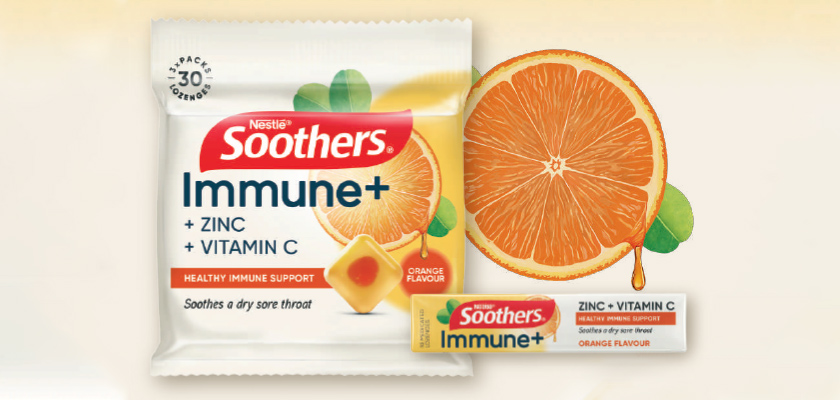 Nestle suggest you should start using Immune+ at the first sign of a cold to soothe a dry throat and support immune system health. Or, go one step further and suck on a couple per day to give yourself that extra edge in fighting off infections.
Soothers Immune+ comes in a delicious orange flavour, with no artificial colours or flavours.
That's a double win for us!
Available to order now from your local The Distributors member, with an RRP of $1.75.
To find your local The Distributors member, go here FIND MY LOCAL DISTRIBUTOR.